Art Gallery
Call for Entry
2015 Spring Student Art Exhibition (May 21 — June 7, 2015)
Delivery of works: Monday — Thursday, May 11–14 from 10 a.m.–5p.m.
Eligible Entries
The call for entry is open to COM students who were enrolled in Fall 2014 or Spring 2015. Artwork submitted does not have to be created in art classes.
Entry Requirements
Each student is allowed to enter up to five works.
Fill out entry forms thoroughly for each work, including selling price. Please indicate "NFS" if not for sale. 100 percent of the sales will go toward the artist.
Attach each entry form to both front and back/bottom of artwork securely with masking tape.
Deliver artworks to COM Art Gallery on May 11- 14 (Monday–Thursday), 10 a.m. – 5 p.m.
Accepted Work
Artist will NOT be notified if the artworks are accepted.
Artists with unaccepted works will be notified by email or phone call by May 20. They will be kept in the COM Art Gallery office space (F-127). Any unclaimed works after May 30 will be discarded.
Artworks included in the show must be picked up on June 8 or 9, 10 a.m. – 5 p.m. Any unclaimed works after June 9 will be discarded.
Two-dimensional works
Two-dimensional works in any surface is accepted. Matting/framing is not necessary. If framed, it must have hanging hardware on the back. Drawings in charcoal or other dry media must be spray-fixed and free of smudge. Wet media must be completely dry.
Three-dimensional works
Three-dimensional works of any media will be considered. Accepted works must be stable enough for safe handling. Any works that consist of multiple parts must be securely taped or attached together.
**Please consult the Art Gallery if you wish to enter other media such as digital works.
For more information: Download Call for Entry Flier
2015 Spring Student Art Exhibition
May 21 — June 7
College of the Mainland Art Gallery accepts proposals for exhibitions. Please send a biography, a curriculum vitae, images of works and an artist statement. These materials cannot be returned.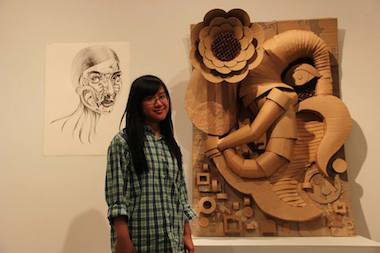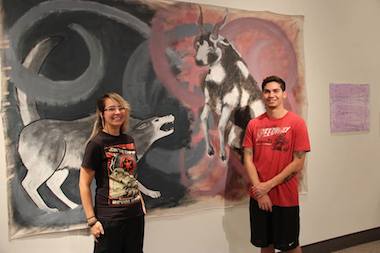 The College of the Mainland Art Gallery serves as a resource for the study of art and art history and presents works demonstrating contemporary standards of quality. Exhibitions include paintings, drawings, print media, sculpture, ceramics, mixed media, film, digital media (including movie and still photography) and site-specific installations that are culturally significant and creatively express personal views.
Committed to making contemporary artwork accessible, the gallery is free and open to the public. Exhibits are created and coordinated with speakers and other events to promote the area's richly diverse ethnic and socioeconomic backgrounds.
Professional artists shown at the gallery have been accredited and recognized by the art community. The Museum of Fine Arts, Houston, has included the College of the Mainland Art Gallery in their list of recommended venues for the presentation of fine art.
The gallery presents an annual student art show and biannual faculty exhibition. The gallery is located in the Fine Arts Building and open Monday through Thursday, 10 a.m. to 4 p.m., and by appointment.
For more information, please contact 409-933-8354 or 409-933-8348 or check us out on Facebook at www.facebook.com/comartgallery.