Phlebotomy Technician Certificate
About the Career
Calm and professional, phlebotomy technicians collect blood samples when donors give or patients need medical tests. Medical professionals use blood tests to diagnose illness, evaluate medications' effectiveness and determine whether a patient is low in nutrients.
Qualities for Success
Compassionate, detail-oriented students with good hand-eye coordination do well in this program.
Career Outlook
Employment opportunities are found in the many facilities in the area, with a mean hourly wage of approximately $14.74.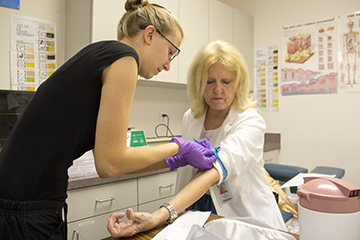 About the Program
The Phlebotomy Technician Program includes a combination of classroom instruction, labs and clinical training to prepare students to flourish in the field. Students train in small classes with instructors with years of practical experience.
Certification
The program prepares students to sit for the Phlebotomy Technician Exam (PBT) administered by the American Society for Clinical Pathology (ASCP). Students will also complete the Healthcare Provider CPR certification.
How to Begin
A high school diploma or GED is required. Clinical sites require participants to have updated immunizations, background checks, drug screens and verified IDs.
An application is required prior to registration: Phlebotomy Technician Student Application.
Financial aid is available for students who qualify.
| Course # | Title | Hrs |
| --- | --- | --- |
| PLAB 1023 | Phlebotomy Technician | 84 |
| PLAB 1060 | Clinical Phlebotomy | 48 |